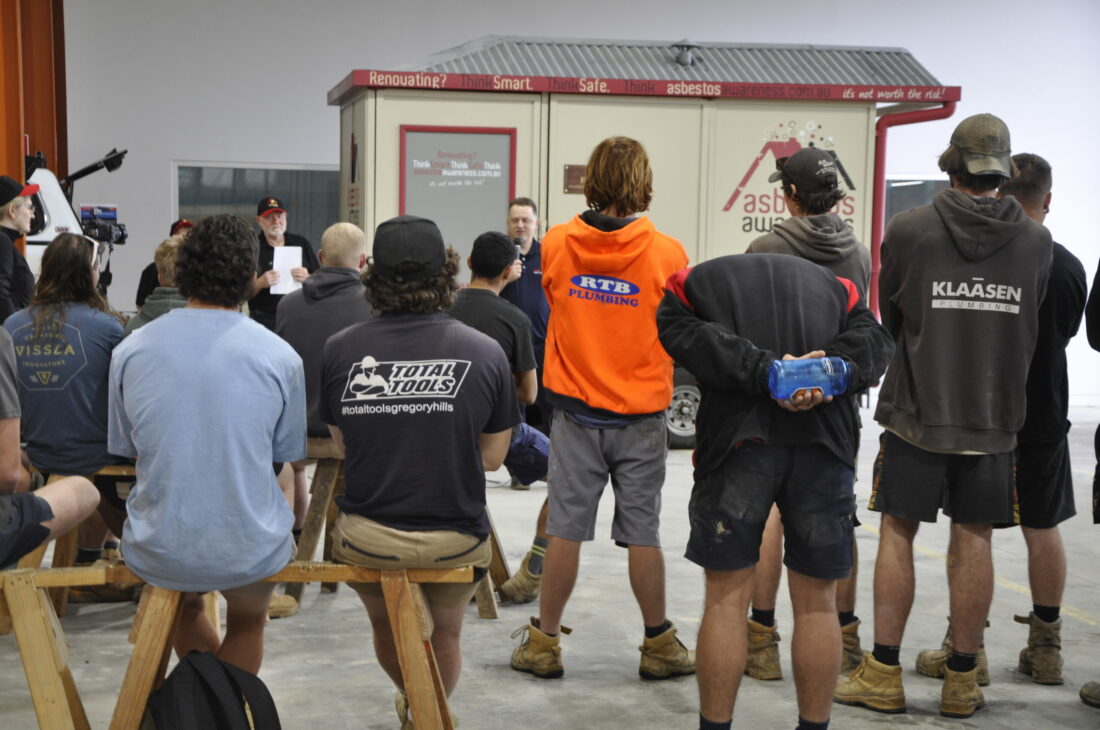 MEDIA RELEASE: 23 November 2022
New resources help employers better inform workers of asbestos risks
November is National Asbestos Awareness Month – Friday 25 November is Asbestos Awareness Day 2022
Today, the Asbestos Education Committee announced the release of newly developed resources to help a wide range of employers inform workers of asbestos risks to prevent asbestos-related diseases that kill more than 4,000 Australians every year. Of these, many have been exposed to asbestos fibres in the workplace.
Before a complete ban on asbestos came into force in Australia in December 2003, Australia was among the highest consumers of asbestos-containing materials in the world resulting in Australia now having extensive legacy asbestos that's responsible for causing the world's highest incidences of asbestos-related diseases.
As long as asbestos-containing materials remain hidden in one third of Australian homes built before 1990 and in commercial and non-residential properties built prior to 2004; the incidences of asbestos-related diseases and deaths are predicted to continue to rise if workers are unaware of the risks when working where asbestos is present.
With 12.9% of Australian workers being technicians or tradies and a further 9% working as labourers, this group which accounts for almost one quarter of Australia's workforce are most at risk of exposure to asbestos fibres in the workplace.
To better inform workers of asbestos risks, the Asbestos Education Committee developed a series of effective Asbestos Awareness Toolbox Talks to help employers promote compliance with Work Health and Safety (WH&S) regulations to prevent unnecessary exposed to asbestos fibres that can kill.
Phillip Smith, Group Executive, Environmental, Health, Safety and Quality at SHAPE Australia and a member of the Asbestos Education Committee said, "Short weekly Toolbox Talks are an effective and essential communication and consultation tool to ensure WH&S best practice in the workplace.
"By taking a proactive approach and reinforcing important health and safety information among workers on a regular basis, employers can maintain regulatory compliance and build a culture of health and safety that protects workers from injury and health risks including exposure to asbestos fibres," he said.
"Although not a substitute for asbestos awareness or compliance training, this unique series of Asbestos Awareness Toolbox Talks will assist employers in reminding workers and contractors about the dangers of asbestos and their significant responsibility to manage it safely," Mr Smith said.
Tradies need to be aware that asbestos was used extensively in the manufacture of more than 3000 building and decorator products that can still be found in any brick, fibro, weatherboard, clad home, apartment or shed built or renovated before 1990 and in any commercial or non-residential property built before 2004.
Asbestos-containing material could be lurking under floor coverings including carpets, linoleum and vinyl tiles, behind wall and floor tiles, in cement floors, internal and external walls, ceilings and ceiling space (insulation), eaves, roofs, around hot water pipes, fences, home extensions, garages, outdoor toilets, backyard and farm structures, chook sheds and even dog kennels. It was used everywhere!
If disturbed during maintenance, renovation or demolition and invisible fibres are released that can be inhaled, this can lead to asbestos-related diseases including asbestosis, lung cancer and malignant mesothelioma. There is no cure for mesothelioma, a cancer that can develop between 33 and 44 years after inhaling asbestos fibres with the average survival time following diagnosis, just 12 months.
According to the most recent Australian Mesothelioma Registry (AMR) Report (2021), men were more likely to be diagnosed with mesothelioma than women across all age groups with the number of cases diagnosed each year for both men and women steadily increasing over the past 40 years.
A survey of workers diagnosed with mesothelioma conducted by the AMR showed that 85% of those who'd worked as a plumber or gasfitter, 84% in electrical trades, and 85% in building industry trades were assessed as having had probable exposure in those jobs. For the majority the level of exposure was classified as 'high'.
Clare Collins, Chair of the Asbestos Education Committee and Director of the National Asbestos Awareness campaign since 2011 said, "Because tradies and workers are at risk of coming into contact with asbestos-containing materials in their day-to-day work, if they don't know what to look for or how to manage asbestos safely, they can unknowingly disturb asbestos and put their lives and the lives of others at risk,"
"As long as asbestos remains an ever-present danger in Australian homes and commercial and non-residential properties; preventing exposure among one third of Australian workers must be a significant priority if we aim to minimise Australia's Third Wave of asbestos-related diseases," Ms Collins said.
"By developing a suite of Asbestos Awareness Toolbox Talks to assist contractors and businesses in the building and renovation industries to regularly remind workers of the importance of compliance with WH&S regulations relating to asbestos, we aim to protect workers from becoming a statistic of asbestos-related deaths.
In addition to the known group of effected workers (electricians, plumbers, gas-fitters and builders), there's a wide range of trades that could be vulnerable to asbestos if they don't know the risks or how to manage it safely.
Those at risk of exposure in the workplace include installers of kitchens and bathrooms; heating, air conditioning and maintenance workers; installers of solar panels and cladding; painters, wallpaper hangers and decorators; tilers; layers of floor coverings and floor sanders (stripping carpets, tiles and vinyl flooring), and those who install communications cabling. All need to know how to identify asbestos-containing materials to manage the potential risk.
The Asbestos Awareness Toolbox Talks are designed to complement the extensive range of resources for tradies and workers already freely available from asbestosawareness.com.au/tradies. The website hosts a suite of unique and comprehensive resources for workers likely to come into contact with asbestos including 26 Fact Sheets and trade-specific guidance materials; the 20 Point Asbestos Safety Checklist for Tradies Working on Residential Properties; A Tradie's Guide to Safe Practices in Managing Asbestos in Residential Properties; and A Tradesperson's Guide to Asbestos Containing Materials in Domestic Properties.
The Asbestos Awareness for Young Workers is a new and essential education resource for young workers, apprentices, trade teachers, employers conscientious of protecting their workers from asbestos hazards, and parents wanting to protect their family members from asbestos exposure.
For those working in the commercial and non-residential property sector, the Asbestos Management Handbook for Commercial & Non-Residential Properties is a valuable tool complemented by a suite of templates providing property owners, managers and contractors with the essential resources they need to meet compliance standards.
It doesn't matter if you're a tradie, a labourer, a handyman or a homeowner or renovator; if you suspect a material may contain asbestos, Don't cut it! Don't drill it! Don't drop it! Don't sand it! Don't saw it! Don't scrape it! Don't scrub it! Don't dismantle it! Don't tip it! Don't waterblast it! Don't demolish it! And whatever you do… Don't dump it!
Before taking up tools, respect asbestos and find out what you need to know by visiting asbestosawareness.com.au because it's not worth the risk!
-ENDS-
ASBESTOS AWARENESS TOOLBOX TALKS COVER:
National Asbestos Awareness Month – Asbestos in Residential Properties – Types of Asbestos Common in Construction – Managing Asbestos in the Workplace – Unexpected Asbestos Finds – Exploding Asbestos Myths – Asbestos Management Plans and Registers – Commercial and Non-residential Properties – Naturally Occurring Asbestos – Asbestos and Rural and Regional Properties https://asbestosawareness.com.au/asbestos-for-tradies/tradies-fact-sheets/
HASHTAGS
#RespectAsbestos #AsbestosAwareness #AsbestosAwarenessMonth #ToolboxTalks #AsbestosSafety #DIY #StopPlayingRenovationRoulette #RespectAsbestosRisks