'Betty' – The Asbestos Education House is a purpose built, mobile model home designed to educate the public on where asbestos might be found in and around any Australian home built or renovated before 1990.
With the mission to prevent asbestos-related diseases by educating the community about the dangers of asbestos and how to manage it safely; since Betty was launched in 2012, she's travelled more than 65,000 kilometres touring every Australian state and territory except Western Australia.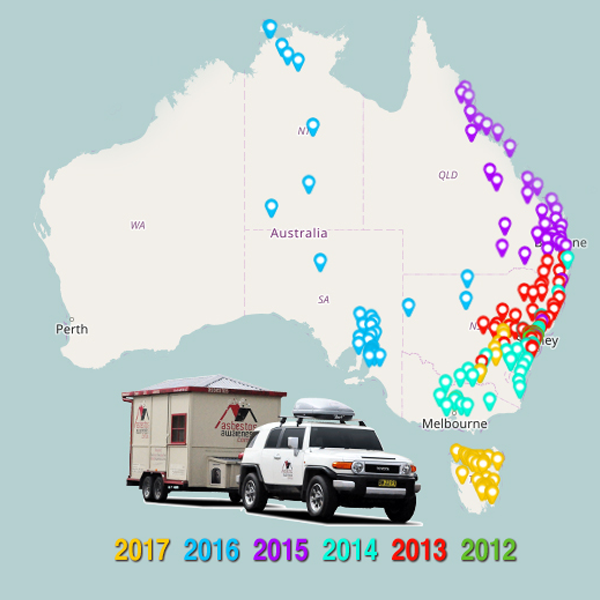 Betty has toured as far north as Darwin and Cairns, as far south as Port Arthur and as far inland as Alice Springs conducting 244 public appearances, 203 media calls and she's been displayed at 51 Bunnings Stores across NSW, Victoria, QLD, SA, TAS and the NT. Betty has visited hundreds of communities around Sydney and regularly toured throughout NSW, primarily exhibiting at community events, council activities and DIY or renovation expos to educate Australians about asbestos dangers.
In every town Betty visits we hold a media call to ensure Betty's message reaches into the homes of every community she visits. Each Betty tour takes several weeks to plan to ensure multiple communities are visited with her tours ranging from one week up to 6 weeks as she travels through multiple states and territories. Councils, MPs and state government regulators in the states and territories she's visited have supported Betty's tours as an important community education initiative in the prevention of asbestos-related diseases.
Betty's curators and chauffeurs, Geoff and Karen Wicks, are multi award-winning fully trained volunteers who enable Betty to educate the community and manage her maintenance and upkeep. Thanks to Geoff and Karen, Betty's life-saving message has reached into the homes of hundreds-of-thousands of Australian's to help save lives.
As part of National Safe Work Month (October 2022), 'Betty – The Asbestos Education House' undertook a dedicated tour visiting 10 TAFE NSW campuses to help educate young apprentices about the dangers of asbestos and how to manage it safely when working on domestic properties in their day-to-day work. Designed to complement TAFE NSW existing asbestos awareness training for apprentice tradies; Betty formed the centrepiece of a dedicated education activity to introduce Asbestos Awareness for Young Workers which was developed by Advocacy Australia's Asbestos Education Committee in partnership with SafeWork NSW, thanks to funding awarded by the NSW Government.
The Asbestos Awareness for Young Workers was developed specifically for young workers, apprentices, trade teachers, employers conscientious about protecting their workers from asbestos hazards and parents wanting to protect their family members, this invaluable asbestos education resource is free to download here.