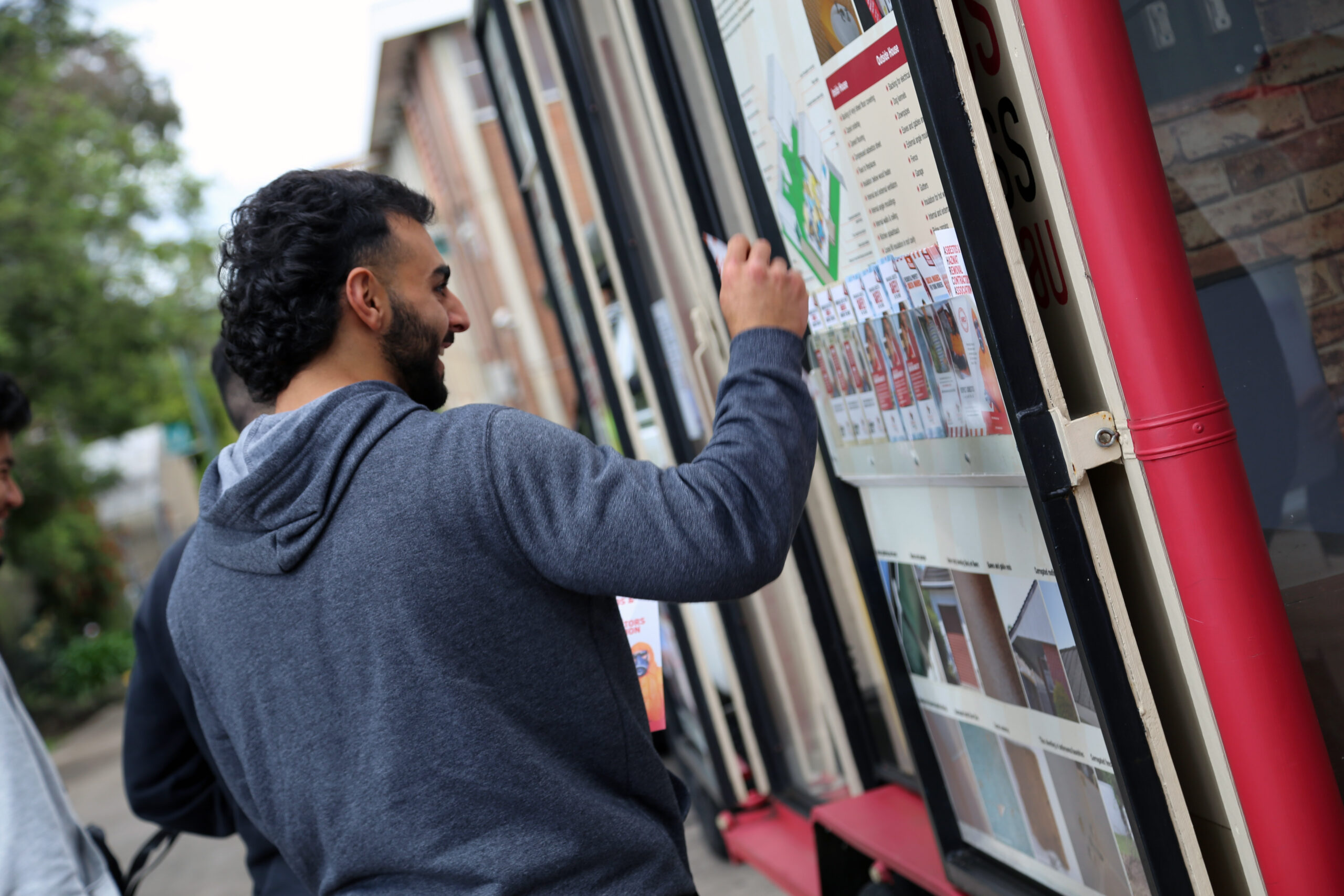 "Betty – The Asbestos Education House"
Driving home the dangers of asbestos to the next generation of workers during
National Safe Work Month – October 2022
As part of National Safe Work Month (October 2022), 'Betty – The Asbestos Education House' will undertake a dedicated tour visiting up to ten TAFE NSW campuses to help educate young apprentices about the dangers of asbestos and how to manage it safely when working on domestic properties in their day-to-day work.
Designed to complement TAFE NSW existing asbestos awareness training for apprentice tradies; Betty will form the centrepiece of a dedicated training program developed by Advocacy Australia's Asbestos Education Committee thanks to funding awarded by the NSW Government.
Betty, the purpose built mobile model house is Australia's only effective experiential asbestos education resource that demonstrates the many locations where asbestos might be found in domestic properties to ensure legacy asbestos-containing materials (ACMs) are managed safely and in line with regulations.
Australia was among the highest consumers of asbestos in the world and although asbestos was banned from use in homes in Australia from 31 December 2003, ACMs could still be found in any home built or renovated before 1990 including brick, weatherboard, fibro, clad homes and even apartments.
Asbestos was used everywhere in homes – lurking under floor coverings including carpets, linoleum and vinyl tiles, behind wall and floor tiles, in cement floors, internal and external walls, ceilings and ceiling space (insulation), eaves, garages, roofs, around hot water pipes, fences, home extensions, garages, outdoor toilets, backyard and farm structures, chook sheds and even in dog kennels.
If sealed, in good condition and left undisturbed, asbestos is not considered dangerous. However, if disturbed during maintenance or renovations and microscopic fibres become airborne or settle on clothing, equipment or machinery and can be inhaled; this can lead to incurable diseases including malignant mesothelioma, lung cancer and asbestosis.
Kristy Charlton, Director, Chemicals, Explosives and Safety Auditing, SafeWork NSW said, "Everyone has the right to be safe at work. With asbestos remaining in one third of NSW homes and tradespersons likely to come into contact with asbestos hazards in their day-to-day work, awareness and education are crucial in preventing asbestos exposure among those likely to work on homes where asbestos might be present," Ms Charlton said.
"Betty's TAFE NSW tour supports our vision of reducing the risk of harm in the workplace and we're pleased to fund this unique asbestos education program to help drive home the dangers of asbestos to the next generation of workers to create safer workplaces for young trade students," she said.
Throughout National Safe Work Month (October), Betty will visit ten TAFE NSW campuses that specialise in educating building trades with students from other TAFE campuses in those regions invited to attend, extending the reach of Betty's potentially lifesaving message to as many young workers as possible.
Students will have a practical visual experience to learn the many surprising locations they might expect to find ACMs in domestic properties while learning what to do to ensure they manage asbestos safely in accordance with government guidelines, regulations and codes of practice.
Clare Collins, Chair of Advocacy Australia and the Asbestos Education Committee said, "We're most grateful to the NSW Government for funding Betty's TAFE NSW tour as part of National Safe Work Month in October."
"With an estimated 4,000 asbestos-related deaths every year and the number of deaths predicted to rise because people either ignore the warnings or don't know the risks or how to manage asbestos safely; Betty is an invaluable resource to help the next generation of young workers learn to respect asbestos and ensure they manage it safely to prevent asbestos-related diseases," Ms Collins said.
"Education is key and through this dedicated tour designed to complement TAFE NSW asbestos education programs, we'll also have the opportunity to educate the many non-trade staff and students at each campus Betty visits to increase vital awareness of the dangers of asbestos among the wider TAFE communities.
"Betty's tour will provide TAFE students with vital information as to why asbestos is dangerous, the risks of working unsafely with ACMs, and the steps to take if they come across materials they suspect may contain asbestos including to report it to their boss, their supervisor or the Work Health and Safety representative.
"Students will be reminded that should an employer ignore the risks and fail to adhere to asbestos management regulations they can report any concerns about possible unsafe asbestos management practices anonymously by using the SafeWork NSW Speak Up app," she said.
"We're delighted to deliver Betty's potentially life-saving message to complement TAFE NSW asbestos education for the next generation of NSW workers," Ms Collins said.
Everyone should visit asbestosawareness.com.au to find out how to identify the asbestos that remains hidden in homes built or renovated prior to 1990 and learn how to manage it safely.
If you have asbestos safety concerns on a jobsite, contact SafeWork NSW on 131050 or visit speakup.safework.nsw.gov.au where unsafe work practices can be reported anonymously.
-ENDS-
HASHTAGS
#AsbestosAwareness #RespectAsbestos #AsbestosSafety #RespectAsbestosRisks #AsbestosEducation #SpeakUp
| | | | | |
| --- | --- | --- | --- | --- |
| Date | Tafe Campus | Location | General Exhibit Time | Apprentice Training Sessions |
| Mon 10-Oct | Granville | Outside E Building | 9:30am – 2:30pm | 10:30am – 11:30am 1pm – 2pm |
| Tue 11-Oct | Ingleburn | Near outside pergola | 10am – 3pm | 11am – 12pm 1pm – 2pm |
| Wed 12-Oct | Northern Beaches | Carpark between Building H and E | 8:30am – 11:30am | 9am – 10am |
| Wed 12-Oct | St Leonards | Carpark Near M Block | 1pm – 4pm | 2pm – 3pm |
| Fri 14-Oct | Nirimba | Car Park Area Between T8 & T7 | 9:30am – 2:30pm | 10am – 11am 2pm – 3pm |
| Mon 17-Oct | Maitland | Car Park near Block A | 9:30am – 2:30pm | 10:30am – 11:30am 12:30pm – 1:30pm |
| Tue 18-Oct | Ourimbah | Car Park Off The Boulevard | 10am – 1pm | 11am – 12pm |
| Thur 20-Oct | Wollongong | Outside Building F | 10am – 3pm | 11am – 12pm 1pm – 2pm |
| Fri 21-Oct | Gymea | Basketball Court Between A & D Blocks | 10:30am – 1:30pm | 11:30am – 12:30pm |
| Wed 26-Oct | Orange | Within the COLA Compound | 9:30am – 2:30pm | 10:30am – 11:30am 12:30pm – 1:30pm |
| Mon 31-Oct | Ultimo | Outside N Block; Jones Street Mall | 9:30am – 2:30pm | 10:30am – 11:30am 12:30pm – 1:30pm |