Alice Collins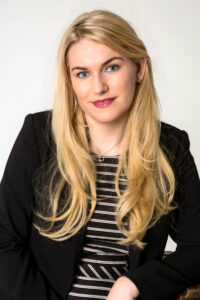 Alice Collins is a multi-award-winning communications Director who has worked in the public relations and communications industry across the cause, culture, community and health sectors since 2006.
In 2008, Alice co-founded Insight Communications, a multi-award-winning public relations and communications agency. She has received national and international peer recognition winning 12 PRIA awards (2010-2016) and her agency was Australia's first PR agency to win an AMEC International Communication Effectiveness Award and a Global Alliance COMM PRIX Award in 2014.
In 2015 Alice received an award from Crime Stoppers Australia in recognition of her dedication and commitment to assisting NSW Police through the Where's William? Campaign.
In 2014 and 2016 Alice was a  finalist in the University of Technology Sydney (UTS) Alumni of the Year Award (Faculty of Arts and Sciences) and in 2017, Alice became the first PR practitioner to receive an AMEC Young Professional of the Year Award and was named one of UTS's Towering 10 Alumni for 2017.
Since 2011, Alice has lectured biannually on the University of Technology, Sydney (UTS) Ecology of Public Communications Panel presenting effective campaign management for the not-for-profit sector across PR, advertising and marketing.
Alice has presented on effective communication in the UK and Europe including at the 2014 World PR Forum in Madrid, the 2017 Mumbrella360 communication summit (Sydney) and at the 2018 Australia Council for the Arts Biennial Marketing and Communications Summit.
Alice was appointed to the Public Relations Institute of Australia's Golden Target Awards NSW Events Committee (2012-13) and was a committee member of the Cultural Development Collective (2012-16).
Alice served on the National Youth Theatre Company Foundation Board as Secretary and is currently a member of the Friends of the Australian Ballet Events and Marketing Advisory Committee and is a member of the Public Relations Institute of Australia.
Additional Board Members